My pedalboard used to be a real source of contentment for me. I'd open it up, play a gig, and glorious sounds would pour forth.
—————————————————————
Somewhere along the line, the two gain stages I was using started to dislike each other. For several years I have been swapping out different gain pedals (overdrive and/or distortion). Presently, I'm pretty attached to a pair of custom pedals which were made by two different friends of mine, but I would like to simplify, and use a single pedal if possible. I checked out the Wampler Dual Fusion, and put it through its paces.
I recorded and made a video of the whole process, which you can see here: https://youtu.be/aqgg4Xv8ct4
The pedal is visually gorgeous. Mine is the maroon/brown (mahogany?) metal-flake version. It's housed in a sturdy 3½" x 4½" enclosure.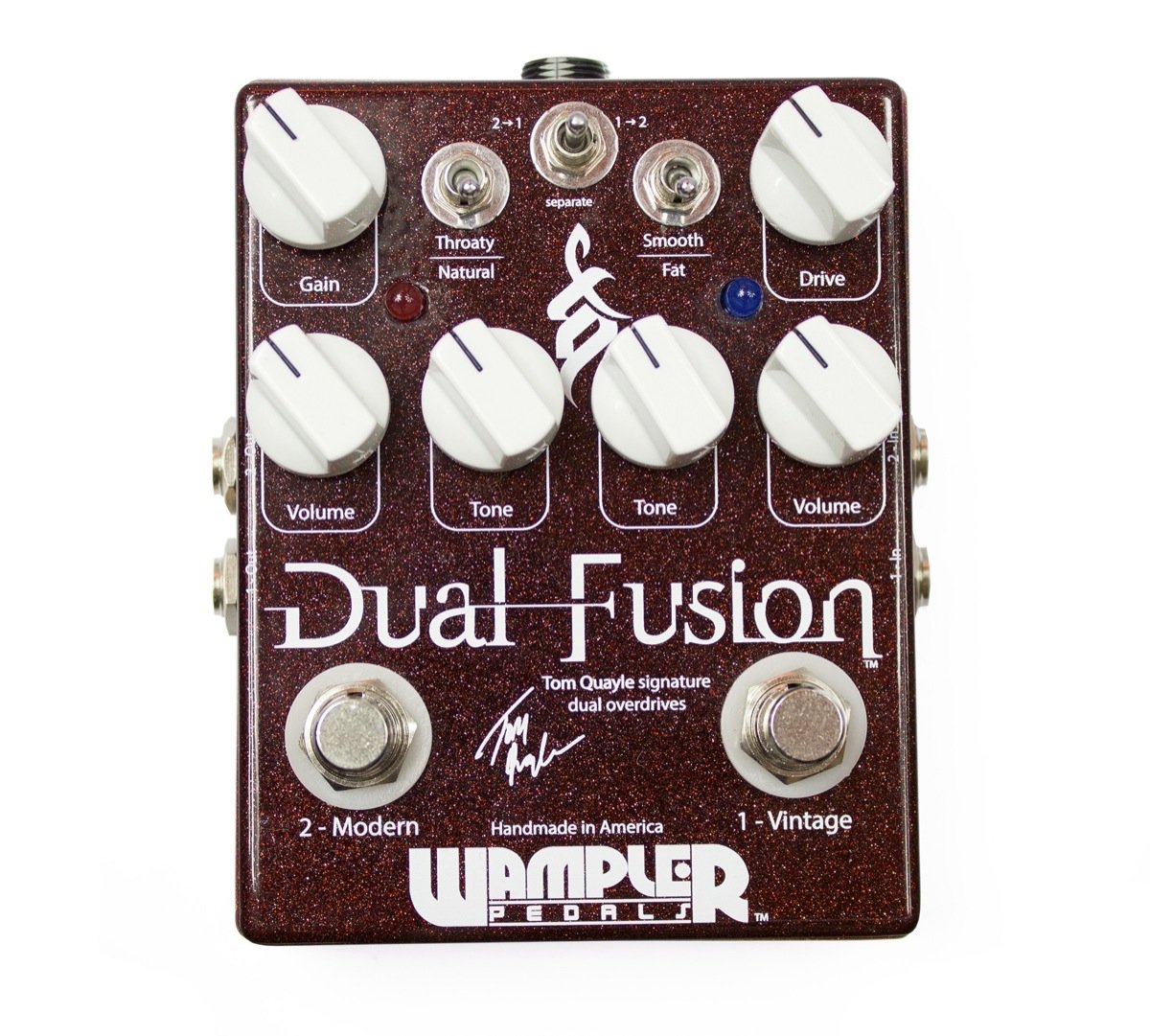 LAYOUT- The Dual Fusion has two inputs and two outputs, and a switch that lets you choose which order the gain stages will go.
Channel 1 (left side, blue LED) is "Vintage."

Channel 2 (right side, red LED) is "Modern."
Signal path order is selected via switch, either 1 → 2, or 2 → 1, or Separate***. The pedal features two sets of input/output jacks which correspond to this switch setting, so you'll need to plug cables in correctly for your desired channel order to work. ***You can also run the gain stages independently, but I have no interest in doing this. Basically, the Dual Fusion has a voicing switch on each channel, plus standard Gain, Tone, and Volume controls. It uses those big white knobs that are usually found on boutique-type pedals. The controls are very responsive, but these knobs are why I don't like using Fulltone pedals live—  They turn too easily on accident.
Channel 1 / Vintage / Right / Blue:  features a voicing switch to let you choose between "smooth" and "fat."

Channel 2 / Modern / Left / Red:  features a voicing switch to select either "throaty" or natural."
LED's for each channel are very bright, which can be great for playing outdoor stages on sunny daytime stages, but for dark rooms and dynamic performances with strategic lighting, it could be distracting. Admittedly, this is a pet peeve of mine.
—————————————————————————————
Overall layout pros: Makes perfect sense, once you look at it. Easy to use. Overall layout cons:
Having to switch cable jacks to change circuit order is a pain.
Big knobs on responsive controls can mean trouble, live.
Compact layout is nice, but footswitches are dangerously close together.
Digging in: I plugged the Dual Fusion into my early-90′s UK reissue Vox AC15. This is an amp that does clean sounds extremely well, and has a good midrange voice when overdriven. Setting it to a big clean bright sound, I went to work dialing-in tones on the Dual Fusion.
SOUNDS- On the Vintage/Right/Blue channel… "Fat" boosts the mids in a way not unlike a classic Tube Screamer, and I found this was very flattering to my Fenders without sounding like yet another Tube Screamer copy. I REALLY liked this for rhythms. The "smooth" setting, being more transparent, worked nicely with my Les Paul. Both settings were good with my Telecaster. Gain levels cleaned up nicely in response to guitar volume. Looking at the recorded waveforms, both settings are very compressed. It pushes the guitar's sound forward in the mix, which is a nice end-result, but might not be as "transparent" (this term seems to mean a lot of things) as one would expect. Listen with your ears. In my experience, a Tube Screamer loses a lot of the articulate treble (which can be appealing when using single coils). The Dual Fusion lets all that come through. It's nice for chunky rhythm work, but increased gain meant more high-end noise, and some biting pick-attack.
On any given day, "transparent" seems to mean anything from a clean boost, to an overdrive with no EQ changes, to a blend of gain and unaffected signal, to a lack of any gain-induced compression; or combinations of any/all of the above. I tend to use the term to describe the EQ, but recognize that this is subjective.
The Modern/Left/Red channel features a voicing switch that allows one to choose between "throaty" and "natural." The "throaty" setting through the AC15, was very nice. Near as I can figure, it is boosting lows and highs (or scooping-out mids) and boosting volume noticeably. Again, with the warm midrangey humbuckers on my Les Paul, this was nice. I preferred the "natural" setting on single coils. On all settings, the Dual Fusion produces (or allows) a LOT of bass frequencies through. This sounds great when playing alone in a room, but could be a mess for a live sound man, or a recording engineer. I ended up cutting my amps' bass significantly to record the demo tracks. In the room, I heard some pretty harsh trebly tones, but what came out on the recording was very nice. For the record, I was sitting pretty close to the amps, with their speaker cones at about the level of my belt. The best recorded sounds, strangely, came from pointing the microphone RIGHT AT the speaker cone.
A lot of guitarists have lamented the loss of bass frequencies from certain pedals (the Tube Screamers, for example), and favor exaggerated bass response. I'm not one of them. Being a producer/engineer in addition to a guitarist, I spend a lot of time removing unnecessary bass-frequencies from guitar tracks. You can be sure that any sound engineer, live or studio, is doing the same. Why muck up the headroom of your amp with messy bass that needs to be removed anyway, for the clarity of the mix?
The pedal mated well with both my AC15 and my JCM-800 4010. The JCM-800 has no switches or loops or anything, and basically exists as a (small) 50w 1×12 rock machine. Pushing it's natural distortion into harmonic bliss is always easy with any gain source, and the Dual Fusion was no exception. It is probably more than a user of this amp would ever need, though. The pedal's responsive tone controls allowed me to get more gain out of the amp while taming its tendency to get piercing high end (no lack of treble in Marshall amps!), so that was positive. However, high gain settings from the pedal were noisy on both amps.
Ideally, I can get 4 gain stages out of two stacked gain circuits:
Totally clean (all off)

Overdrive (one on)

Distortion (the other one on)

SCREAMING (all on).
What I expected was to want to run 2 → 1, that is, the "Modern" (let's just call it "distortion") channel into the "Vintage" (let's just call it "overdrive"). This is how I have had the greatest success in the past. The overdrive fattens up when hit with the distortion, and the combined gain (when compatible) creates a fantastic singing solo sound. On the Dual Fusion, this worked well, and setting the overdrive (Vintage) gain hotter, made the mids jump out more when hit with the distortion (Modern). Fantastic. However, I also liked (and maybe preferred) running 1 → 2, for more tonal consistency from gain stage to stage to combined stage. There were a lot of tonal variables to explore.
Sound pros:
Extremely versatile, engaging tones.
There's probably something for everyone here.
Sound cons:
Treble transparency = noise, especially on high gain settings.
Bass-frequencies are loud, and can make a mess.
SUMMARY- The Dual Fusion is well-made, well-voiced and well-appointed, with useful features and LOTS of options on how to use them. In short, I really like it, especially for mid-level gain and rhythm on single coil guitars. I'm not crazy about the lack of midrange response/boost, and I find it noisier than I expected. Having to unplug/re-plug when switching circuit order makes this feature unusable on the fly, if it's fastened to a crowded pedalboard. Pros-
Versatility- Users can choose gain stage order and voicing, opting to flatter different types of native guitar tones (single coils versus humbuckers), or dial in something that works well for both.

Sounds great everywhere from low-gain blues/Americana to hard rock.

Compact size, solid construction.

Concise, sensible layout; easy-to-use.
Cons-
Requires unplugging and re-plugging cables to change gain-stage order.

Can be too bassy, treble can be too bright (admittedly subjective).

Treble can cause hiss from the amp, especially at high gain settings.

Bright LED's plus close footswitches means tall guys with big feet might not stomp the footswitch(es) they intend.
Conclusion: I ended up NOT keeping the Dual Fusion after I made the demo. It isn't for me, but it came pretty close to being the new pedal on my board! Maybe it will work better for your playing style. Any questions" Feel free to ask. And if you've used the Dual Fusion with great results I'd love to hear about them. Also, if you have another dual pedal that you think is worth a review/demo, let me know.