In the early 2000′s, I was gigging regularly in three bands as a sideman, fronting my OWN band, and playing every weekend in a megachurch to around 5000 people.
In an attempt to get the most sounds possible (remember- I had around 5 steady gigs), I had ended up with a gigantic pedalboard holding 13 stompboxes, controller switches and pedals, and a MIDI controller. These then went into six rack-mounted effects processors, and ran stereo into a pair of UK-made Vox AC-15 amplifers.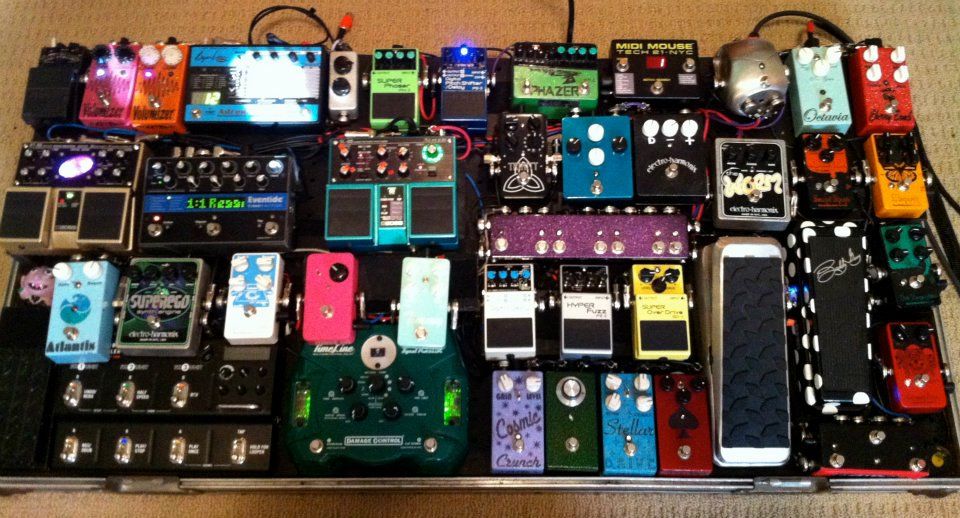 I was constantly unhappy.
Something always needed adjustment, and it was never right. My cable costs alone were astronomical. It took a full hour to break it down and load it into my car, and another hour to set it up.
I had an epiphany about it and simplified my whole rig down to a pedalboard with about 9 pedals; no rack gear and only one amp. At the time, my final pedalboard (NINE PEDALS!?) still seemed pretty big. By today's standards, it's quaint.
Fifteen years later, I've earned a modest reputation as a guitarist, etc. I was lucky to be associated with great artists who got (deserved) attention, and I happened to have played in several of the largest houses of worship in the area, right as each of their respective music ministries was really hitting its stride (I like to think I was partially responsible for that).
Today, what has really come to surprise me is how much MONEY is being spent by church guitarists on gear. Sweet Christmas, the pedalboards make mine look cheap, old, tragic and small!

One of the conditions I have come to recognize about myself is that, after a certain point, there is a law of diminishing returns with music equipment. In fact I think it actually becomes subtractive. Even as a pro guitarist, there is a limit to the number of guitars I can own before they become burdensome (seems to be around 15 for me). After that, I literally use them less; grabbing the nearest one because it's convenient. It becomes a default. A DEFAULT.
The same goes for effects. The more I have, the less I explore and experiment. I settled on a "meat & potatoes" approach to my gear at some point, where I wanted the basic tools to allow me to express my PLAYING. What I'm observing now is an approach by which church guitarists are using expensive guitar rigs so that their playing expresses their effects. They have all kinds of novel noises, but no strong guitar presence.
24 strings plus glorious mustache = strong presence.
Not too long ago, a famous worship band went on tour. They appeared on some daytime talk-shows here in the USA, and then performed in Israel by the Sea of Galilee, all looking very sincere (so much gravitas). The daytime TV performances were of particular interest to me, as I could see the musicians doing their jobs. I saw two gigantic pedalboards with complex lights. What I heard was, chords, chords, two-note thing, chords. Ugh. It takes TWO of you to accomplish so little?
Recently, I joined Instagram. Mostly I've been photographing my guitars, and gathering guitar-related followers. A few of these are church guys. One proudly displayed his latest pedalboard layout in a photo. It has to have $2500 worth of equipment on it. Maybe he's gigging all over the place, but that's not the impression I got.


My amazingly creative Instagram handle is "david_eberhardt" if you're interested in finding/following me.
The point of all this is not the excess of equipment. It's the related dearth of sonic imagination.

There's some sort of trade-off. I don't know where it happens, but this idea has been driving me for some time. I'm convinced that the more options we have, the less creative we become. Hollywood's preference for CGI spectacle over plot or character development is a good indicator of this.
When I had comparably very little equipment in my freshly-started home studio, I produced some of my best work. It won awards. It got me on the radio. People started following me. Back then I was doing everything I possibly could to discover sounds and fit musical phrases in to songs.
A few years later, I had too much gear, and I felt like I was chasing after the music instead of having it roll out of me naturally. I was basically throwing gadgets at the problem, instead of looking inside myself for the solution. Somewhere in the process, I also discovered DEFAULT.
Maybe that's why modern worship music seems so artistically bankrupt. There are fewer deep introspective musical approaches, but plenty of products marketed as solutions. There is plenty of technology, but not much technique. There is not enough artistic desperation, but plenty of default.
Years ago, I heard the story of how Peter Gabriel famously took all the cymbals from the drum kit to force Genesis to start playing differently. It inspired me to force periodic challenges upon myself. I tend to prefer playing a Fender guitar (I have perhaps too many of these), so every January, I force myself to play my Gibson Les Paul as much as possible until the weather looks like Spring. This month, I forced myself back to my classical guitar to learn a piece I've been meaning to learn since I was in high school. I'm planning to start practicing acoustic guitar chord-melody pieces again shortly.

A lot of it boils down to starting over, from scratch, to get away from the defaults.
Some years ago, I decided to explore a new sound with my bandmates. We were a mostly heavy rock band that was venturing into art-pop. I came upon this idea that if I tried a finger-picked acoustic guitar passage against my drummer's African hand percussion, we might discover something interesting. We did. Adding a little electric guitar ambience gave it a great mood, and we discovered something that became very successful in the work we did together and separately in several bands/projects in our area for quite some time.  That song was "Our Yesterdays," which you can hear, HERE: https://youtu.be/L1Yd69PRQSY
How do you avoid defaults? What challenges do you put in front of yourself to keep you growing as a musician and an artist? Are there any disciplines you employ? What about equipment? Do you have stuff you could get rid of? On what merits do you keep or unload gear? What do you do to find inspiration?
I'd love to hear your thoughts. Shout 'em out!