There you are, dear guitarist. You're sitting at home with your guitar. It's not the best guitar, but it's pretty good. Could it be "better?" Maybe, but then what's the definition of "better?" That's another topic.

I joined my first working band when I was about eighteen. My guitars were an Electra Phoenix, a Westone Spectrum FX, and an Ovation Custom Balladeer. My Electra looked just like this… until I added EMG pickups, and a Kahler tremolo.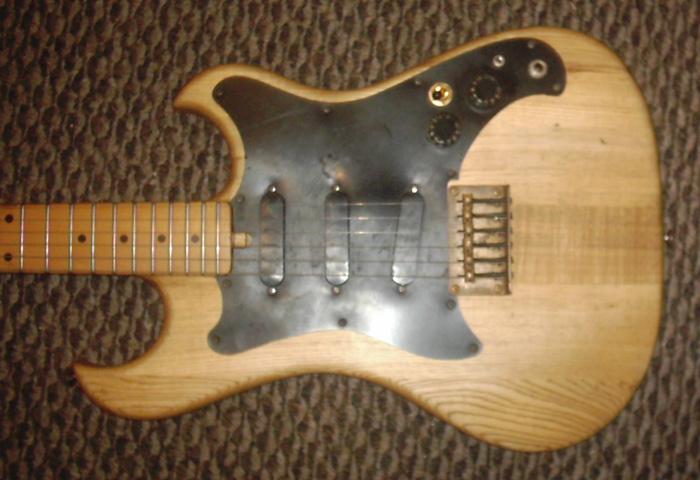 The Westone was snazzier, and the Ovation was the envy of my peers.
Chick magnets!
My only amplifier was a Crate 20w solid-state combo that I had gotten when I was about fourteen. It didn't sound very good, so my bassist (who was really a guitarist) let me use his Gallien Krueger 250ML amp. We ran it directly into the PA system via the microphone cable output on the back. Combined with the handful of cranky old effects pedals I had picked up, it sounded enormous. The Crate amp got used for my acoustic.
It would be several more years before I would discover what a real tube amp could do.
Before the gig, I spent about $30 on three guitar stands, reasoning that a real gigging guitarist needed stands for his guitars. That way they would be within reach on stage, without lying on the floor (bad idea), leaning against something (risky), or sitting in their cases (inconvenient). I'll never forget how cool my side of the stage looked with my three guitars on stands, plus two (dorky little solid-state) amps stacked one atop the other. Thus began my process of buying gear for gigs. THAT purchase was sensible. Subsequent purchases might not have been so practical.
Somewhere along the way, the allure of expensive solutions appeared. A few years passed. Now I had a great Stratocaster… but it wasn't American. Now I had a great amp… but it wasn't vintage. I got great sounds from my modern effects processor, but… it lacked vibe. So I got a vintage amp and some vibey pedals. By dumb luck (really- the singer was my friend's little sister. Some other friends started producing an album with her, and I recorded some guitar tracks as a favor), I ended up in a band that got a lot of attention. As a result, "tapers" came to our shows and recorded our performances. Today, I have a small collection of those recordings, and, in listening back, I honestly cannot tell you what gear I was using.
At the time, I reached the conclusion that I needed "pro gear" to be considered a pro; and if I was considered a pro, THEN surely I would get more pro gigs. This led me to a lot of bad purchase decisions, basically in an attempt to buy my fame and fortune, one gadget at a time. I observe this trend running rampant today.
Two things: (1.) This guy should get some stands. (2.) I may or may not have a room that looks like this.
I haven't played a "real" gig in a while. I work for a church with an approximately 3000-person congregation, and find myself on stage there pretty consistently. Between that and my own studio work, I am pretty content. Nonetheless, I think about booking a live gig here or there, but to do that, I imagine all sorts of needs: I surely NEED a high end vocal mic. Definitely, I will NEED expensive pickup solutions and preamps for my acoustic guitars. I have a small PA, but I will NEED monitors for it. Even though my 1941 Epiphone archtop has traveled in a gig bag since I bought it in 1997, I'm going to NEED a hard case for it.
I haven't booked a single gig yet, and already I'm buying a microphone, pickups and preamps, monitors, and a case. See how that works?
A few weeks ago, I was gear-porning on Sweetwater.com, looking at studio mics, upgrades for my pedalboard, some VST plugins, and even a couple of instruments. I got up to get a drink, and when I came back to my computer, the lust-spell had been broken. I closed each shiny browser tab, saying "Nope," "Nope," "Nope." "I don't need this yet." That's when the wisdom landed in my lap.
"Don't buy gear for a gig you don't have."
Have you ever imagined a need for a piece of music gear? Was it an instrument, amplifier or another gadget? Did you buy it? If so, did it really solve your problems? How about real solutions? Have you ever bought something that was a perfect solution? What was it?
Share your thoughts!