Here's what I remember… or what I think I remember.
In the Spring of 1998, I agreed to record guitar tracks for Katie Reider's budding new album, "Wonder." I was given maybe three songs to work on, and turned those out in about a week, casually, around my work schedule.
Summer happened, and no more progress was made on the record. I waited, but there was no deadline that I knew of, no money being talked about (I had agreed to record it as a favor), and so I didn't press. In the meantime, I had named my little dank studio space, "The Coal Room," and printed out track sheets to document my progress on assorted projects. I kept these in manila envelopes next to their respective studio tapes. That was how studios worked in the late 90′s, friends.
What of the 90′s studio technology? Well, I had an Alesis ADAT tape machine. It recorded 8 tracks of digital audio onto a Super VHS cassette. Yes, really. And they were modular, so you could link multiple machines together.
As was common practice with such gear, I was given a tape with a reduction mix of Katie's scratch guitar & vocal, along with Josh's drums. I had seven remaining tracks, so I put ideas onto each one. I made a point to put one stereo guitar-part (two tracks) on each song. I deliberately got slightly weirder than seemed appropriate, and I figured they would use what they liked, and dump the rest. They kept almost everything.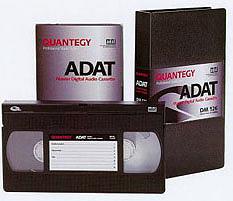 The MIDDLE of October arrived. Frantic, my old friends Josh and Tyler called me in a tizzy, desperate to see if I could hastily bang-out the remainder of an album's worth of original guitar music in a few days. I agreed. They were mixing the first three songs when they handed the next tape over to me.
Three or four of the next songs were on that ADAT tape. I recorded those as they mixed the first three. Then I met Tyler in my employer's parking lot one afternoon, and handed him the tape I had finished the previous night. He handed me the next one to start on. I think he was awake for three or four straight days. I imagine this was what he felt like.
I finished the next two or three songs that night and perhaps the next day. It must have been a Saturday. Or maybe I took a day off or something. Anyway, they were literally mixing songs 4,5 & 6 while I was recording 7,8 & (Row) 9. 
I remember Annette calling to me that it was time to take my little twin daughters out for their first Halloween Trick-Or-Treat. I was wrestling my way through one of the songs. I think it was "Show Your Love." That would make sense, if it was one of the last ones.
At the time, I had no idea that I was going to end up in the band, nor did I know if the band was going to have a name. Assuming no one would ever see or care what these sheets said, I made up funny (to me) names for th band on each song.
I found the old track sheets a few years ago, in a stack of old music paperwork, and scanned them in. If you're interested, you can take a look at what I was calling those parts as I was thinking them up.
If this sort of thing interests you, feel free to ask me what any of this stuff means.
It occurs to me that these track sheets are in perfect time sequence to all be on a single tape.  I wonder (pun intended) if they gave the tape back to me to work on. Maybe they added more stuff to it between Spring and October.
In any case…
Conspicuously absent are the track sheets for "Show Your Love" and "Shaken" (maybe I handed them off along with the tape, for the mixing process). Those were both difficult songs. I wanted to use a wah pedal on "Show Your Love," but mine was broken, no one I knew had one to lend, and there weren't any stores around for me to get one quickly. So I used an envelope filter, which does something similar, but automatically.

I didn't like it, and ended up changing how I played the song live. Much of my challenge was to keep the song from sounding like "Sweet Home Alabama."
"Shaken" stumped me. I didn't know Katie at all, and so I sent her a very hesitant and polite inquiry, asking if she could tell me about the feelings behind the song. I didn't want to pry into anything too personal, but I had no musical ideas (which is unusual for me). She responded quite graciously by saying that she had been left feeling "sour" in the wake of a failed relationship. I really seized onto that word: SOUR. And so I becan constructing the arrangement of "Shaken" with lots of dissonance and tension and chaos.
I remember that I discovered a really cool tone by putting a microphone on the BACK on this old amplifier I had (which has now been broken since 2004). I recorded a bunch of parts for "Shaken" with that sound, and when I was finished, they all jumbled together into this sonic mess. The clock was ticking, and I couldn't re-record. So I used my SansAmp pedal, and bounced some of the guitar-tracks through it, and re-recorded that changed tone. It worked!
Next: What the recording process looked like. Stay tuned!