This guitar is called an "Invicta."
This particular Invicta was made in 1980 by a company called Electra. For a while, Electra  (and some others) were making copies of Gibson and Fender guitars. A trademark-infringement lawsuit ensued, and Electra started making different guitar shapes. This one cheekily blends the body shape of a Les Paul and a Telecaster. They used this basic shape for a number of models with different features.  If you're interested, check out this link to see different Electra models: http://www.rivercityamps.com/electra/
Side note: Someone bought the rights to Electra guitars a few years ago, and has started manufacturing several models (and variations) again. I have no personal experience with these. 
I got an Invicta very much like the one I photographed, either the summer before or after 8th grade (I forget which). It was the closest thing to a Gibson Les Paul that I could imagine owning, and it was on that Invicta that I learned to play solos that sounded like I knew what I was doing. I felt (and somewhat resembled) like this kid:
The status quo of electric guitars has always been held by Gibson and Fender, hence the imitations that have happened over the years (including a robust market of counterfeits). Up until I was about sixteen, I was a dyed-in-the-wool classic rock fan. Van Halen's 1984 album  changed the guitar status quo overnight, and soon enough, the trends changed (later still, in Cincinnati, Ohio). The classic rock sound and look was no longer cool.
Eventually, I bowed to the trends, and started yearning for something a little more modern. I got a "shredder" guitar, and started incorporating the techniques and tricks of that genre. I lent and eventually sold the Invicta to my friend Aaron, who still has it. My shredder guitar is long gone. It's interesting to me, in hindsight, how the status quo was Gibson/Fender in 1984, and "shredder" guitars, or "super-strats" in 1985. Seriously, there was a point where those classic Gibson/Fender guitars were just hopelessly passé. The trend continued relatively uninterrupted until Grunge arrived like a dam breaking, and the Gibson/Fender status quo returned.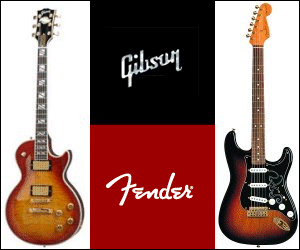 Interestingly, music styles have become the influencers of guitar types, instead of the other way around. And you BETTER have the "right" guitar for the gig. What do country players use? Telecasters. What do hard rockers use? Les Pauls. Texas blues? Strats. Think a roots-americana type band is going to love it if I show up to a gig with my emerald green Ibanez RG? Nope. Wrong gig, dude.
True story: I was invited to audition for a heavy rock band a few years ago, and, based on older photos, they were reluctant to extend them an invitation until I showed them I had shoulder-length bleached-blonde hair (this did not end well for my hair). I received a notification of what types and brands of guitar equipment were expected… no mention of my capabilities or tones. They wanted a Gibson or PRS guitar, and a Marshall, Mesa, or comparable amp head. I had a couple of cool Gibsons, but my vintage AC30 was not invited! I actually considered getting a Plexi or a Dual/Triple Rectifier. Reason and good advice prevailed. I politely declined the invitation. That band never went anywhere anyway.
Here's my point (finally). As artists, when we seek to engage people by bowing to the status quo, we're engaging in a sort of law of diminishing returns. In a world of Les Pauls, the Stratocaster stands out (and vice versa). In a world of standard classic rock guitars, Eddie Van Halen's "Frankenstein" super-strat stood WAY out. And then, in a world full of copycat super-strat type guitars, the classics, all of a sudden, stood out.
It isn't just guitars, its artistry. I'm really impressed by music artists who do something that is both unique and approachable. It's such a difficult fine line. When the status quo goes left, an artist should choose a direction based on inspiration, not imitation. That doesn't necessarily mean that left is bad or that right is good. It does mean that mimicry leads to a location that gets crowded quickly, and listeners eventually relocate.
So what the Invicta represents to me, is a time when a company tried to do something that was different, incorporating bits of what was known  with something inspired and different. I truly enjoy playing different types of guitars, because the unique shape and sound of each type somehow prompts me to play differently. I can't NOT play ripping solos on an Ibanez RG. I can't manhandle my 1941 Epiphone archtop the way I fight a Strat or Tele. While these are all common shapes, the Invicta stands out in my guitar-stable, as a whole different breed. I enjoy that it inspires different approaches while delivering what is still classically mine.
Isn't that the kind of instrument we should all be looking to play?
What's the instrument that makes you play differently? Is there some cool lesser-known brand or model that really turns you in an unusual  direction? What about different sounds? Where are you finding those? I'd love to hear about them.